$155.00


Fender Classic Series 50s Stratocaster Guitar Maple Surf Green w Gig Bag NEW
US $799.99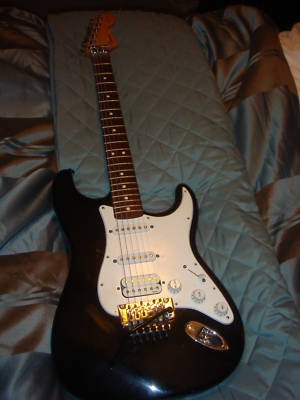 Up for auction is a Fender Richie Sambora (of Bon Jovi) Stratocaster!! It came stock with a Floyd Rose bridge and Dimarzio Humbucker and WOW this guitar is extremely versatile! Being A discontinued model I couldn't find many technical pages about it but I did find a couple of reviews:
http://www99.epinions.com/reviews/Fender_Richie_Sambora_Standard_Stratocaster
http://www.ultimate-guitar.com/reviews/electric_guitars/fender/richie_sambora_standard_stratocaster/index.html This is most versatile guitar I've ever owned. You can play everything from metal to bluegrass and get a sound close to what your looking for!! The dimarzio in the bridge pickup positions really picks up harmonics really great and the 5-way selector switch is just ridiculous. Great tone! It is a Mexican made stratocaster, but you'd honestly never know. It only states that on the back of the headstock and the sound quality is amazing!! It blows my best friends American made Telecaster out of the water hands down!! From the fans perspective, it looks sick with a floyd rose, dimarzio humbucker, and Richie Sambora's signature on the front of the Headstock!! Also Included is: Hard case (not custom fit, but works great!)Whammy Bar for Floyd RoseNew set of strings installed!
As far as problems go, it's definitely not mint condition. It does have a ding in the bottom corner (not crazy noticeable - see pictures) and the back plate is missing. Also one of the bolts screwing the top floyd rose nut is missing (also in pictures), but I'm sure you can pick one up easy from any of your local music shops. For the most part, it's a clean looking guitar...
I really don't want to see this guitar go, but I'm selling it because I need to save up for recording equipment and being primarily a drummer I really don't use the guitar much. It's the last of my electric guitar collection.. I play mostly on my acoustic for fun now. I have a major impulse gear buying problem, which usually leads to me selling things to buy new things, but this particular guitar has always been the hardest because I know how good of a value it really is. Thats why it remains my last electric guitar =( ...but, my loss is your gain! This is your chance to get an American sounding awesome strat for a fraction of the price!!
Please bid with confidence! I have 100% feedback!!
If you have any questions, comments, or concerns... feel free to contact me and I'll get back to within 24 hours!!Good luck and happy bidding!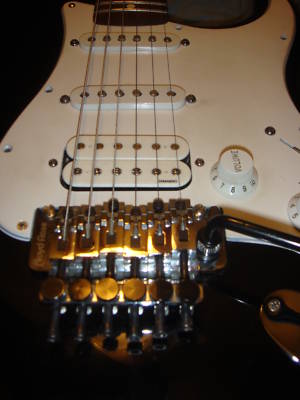 3030 total views, 13 so far today